A Guide on How to Find the Best Date Night Restaurants in NYC
Finding the best date night restaurants in NYC for your date night is extremely important and can have an impact on whether will be another date.
Whether you're going on your first date or 110th date finding a romantic restaurant or new date ideas in NYC can be challenging and we went through the restaurant jungle to show you the best restaurants to experience a perfect date experience in New York.
1. Il Buco
4. Carbone
This West Village hot spot is a New York institution. Carbone impresses with its old-school Italian theme and is a hangout for VIPs and food-obsessed New Yorkers and you should definitely make a reservation as this place is almost always booked out. We recommend placing your reservation at least a month in advance in order to secure your table – the long wait is so worth it. It's more than a restaurant, it's an experience, and one worth having.
Our menu recommendations: Literally anything.
5. Candle 79
This upscale
vegan spot
is ideal for anyone who loves food and animals as this place focuses on plant-based food that energizes and amazes without compromising flavor or satisfaction. The food itself—fresh, creative and considerate carefully prepared with locally-sourced sustainable ingredients in their most natural form to create inspired dishes.
Our menu recommendations: Seitan Piccata
6. Rolf's Restaurant
This small German restaurant is a perfect location for a date. At Rolf's you can enjoy a wide range of German dishes and the portions are veeeery generous. if you like Sauerbraten or maybe a Wiender Schnitzel with an amazing German bier then you have come to the right place. Famous for its interior decorations Rolf's is definitely one of the best date night restaurants in NYC.
Our menu recommendations: Wiener Schnitzel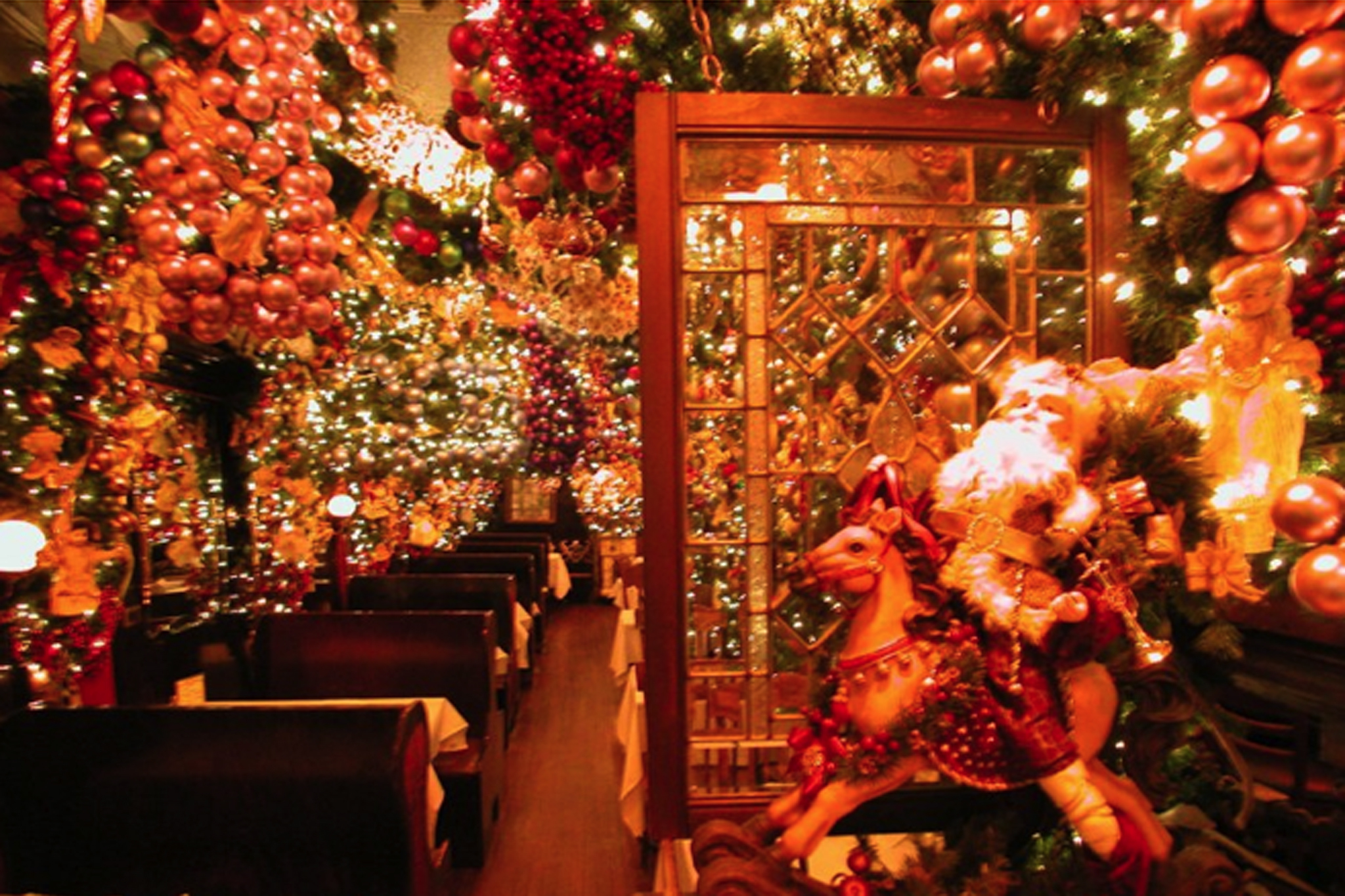 7. Tartine
This West Village hot spot still draws lines after 18 years and there is a simple reason for that – it's amazing. Tartine has a BYOB policy with no corkage fee which adds to the bohemian allure and the salty fries are to die for. Tartine is known for its tasty dishes in a friendly neighborhood atmosphere and whether you want coffee and croissants, a quick healthy lunch or a cozy dinner, Tartine is a cozy spot and one of the perfect date nights restaurants in NYC.
Our menu recommendations: The Seared Tuna
8. Le Coucou
This gorgeous restaurant delivers on all its promised.Le Coucou is Soho's graceful French spot which has a 12-inch candles set at each table creating a romantic atmosphere the moment you sit down. Le Coucou serves classical French cuisine with charm and verve and all their dished are Instagram ready to be posted on your timeline. You definitely should get a reservation as you might not be able to get a table when just walking in. Le Coucou is one of our perfect date night restaurants in NYC.
Our menue recommendations: Chou Farci aux Fruits de Mer
9. Le Colonial
Le Colonial is an elegant Midtown destination where you can expect exceptional service and amazing food & drinks. After 10 years this place still gets packed every night and this two story restaurant with a lively lounge is serving a full dinner or just appetizers and cocktails. Our Midtown selection for the best date night restaurants in NYC.
Our menu recommendations: Lemongrass Chicken
10. Sauvage
Sauvage feels like a nice bistro that you'd find in Paris and is a vibrant expression of a neo-bistro. This restaurant offers a new kind of transportive restaurant experience, far from the louche gardens of New Orleans and the dimly cocktail halls of past centuries. Whether you are looking for lunch, brunch, or dinner date Sauvage is one of the popular date night restaurants in NYC.
Our menu recommendations: Pork Porterhouse